Lilith Anderson
Oorspronkelijk: 2017.
Lilith Anderson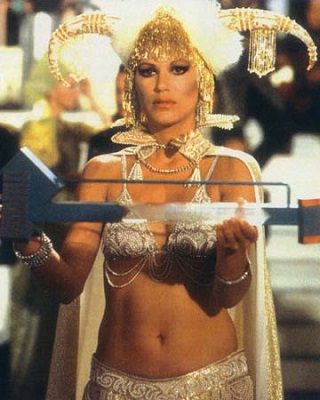 Ardala ('Buck Rogers in the 25th Century')
De 25 vrouwen die Lilith Anderson gebruikte als gentherapie om zelf nog mooier te worden dan ze al was:
Bronnen gebruikt door Lilith Anderson

Kathleen Frances Smith
Lexa Pierce ('Mutant X')
Lana Debbie Ishikawa
Drusilla ('Buffy the Vampire Slayer')
Carina Elizabeth Toyota
Darcy Walker ('Black Scorpion')
Donna Maris Tate
Kiri ('The Beast Master')
Candy Angela Jones
Droxine ('Star Trek')
Penny Astrid MacGyver
Cordelia Chase ('Buffy the Vampire Slayer' en 'Angel')
Caroline Annelijn Rosa May
Space Girl ('Lifeforce')
Wendy Carla Parkman
Darla ('Buffy the Vampire Slayer' en 'Angel')
Lina Tara Duval
Elizabeth Dehner
Mara Anna Sweet
Callisto ('Xena: Warrior Princess')
Luna Terra Ra
Wilhelmina Murray ('Dracula')
Jane Pamela Good
Kendra Young ('Buffy the Vampire Slayer')
Barbara Lorna Seymour-Cox
Vampirella
Scarlett Danielle Theron
Selina Kyle (Catwoman, DC Comics)
Susan Eva de Groot
Isabeau d'Anjou ('Lady Hawk')
Tessa Daisy Candy
Tara MacClay ('Buffy the Vampire Slayer')
Betty Henriėtte Banning
Barbarella
Fatima Agnetha Wesley
Lorelei Ambrosia ('DC Comics')
Kathy Anita Lee
Elektra Natchios ('Marvel Comics')
Lisa Denise Candy
Glorificus ('Buffy the Vampire Slayer')
Beth Angelique Starr
Faith Garland ('Star Trek')
Liana Andromeda Starr
Alice ('Resident Evil')
Mary Conny Cox
Miss Caruso ('James Bond')
Trish Theron
Alex ('Saturn 3')
Aurora Zirkon
Sarah Connor ('The Terminator')
Afbeeldingen van Surf City herdenkingssite. Zegschij-Sprucphord, 2017.